Dent Repair Swansea - PDR Specialists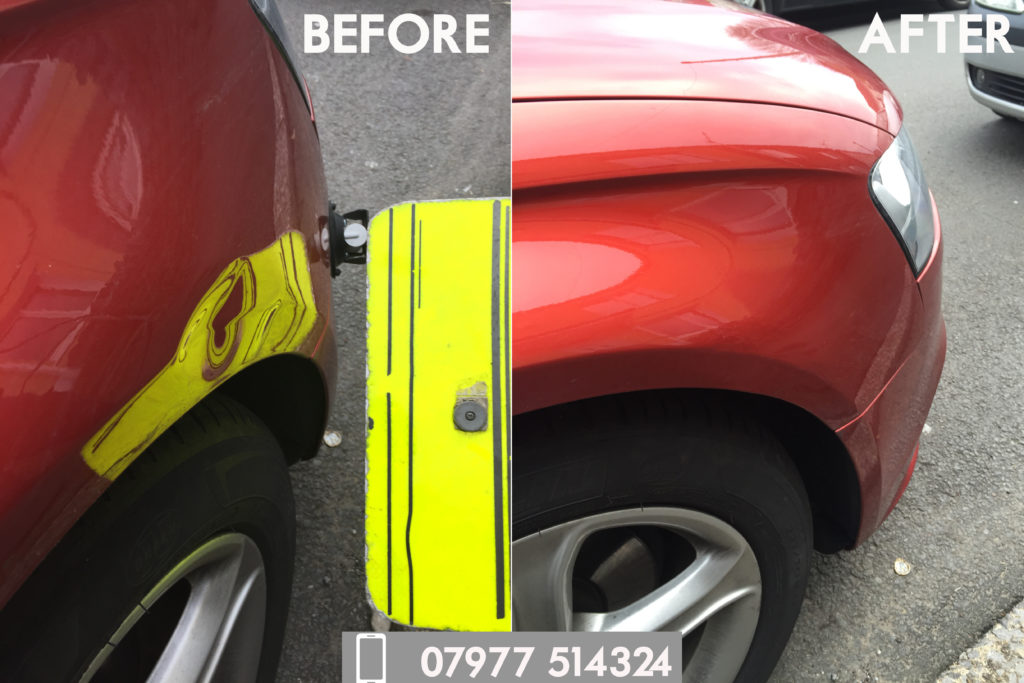 Isn't It Time Your Vehicle Looked New Again?
If you have ding's and dents damage on your car then our Swansea dentmaster repair technicians can help. Our Swansea mobile dent removal service can help give a new look to your vehicle body.
These day's it doesn't take much to dent your car, a kid on a bike, a car door in the wind, or a rubbish bin can quickly dent, ding, scrape, scuff, or otherwise damage your car.
Instead of taking your car and leaving it a traditional body shop for 3 to 4 day's, why not save time and money by phoning our Swansea dent repair mobile service? We can quickly have your car looking good as new again and without the high cost of replacement parts or filler and paint.
Simply use the Contact us  form to contact us or alternatively phone Steve on 07792-320692 or Carmond on 07977-514324
We Will Save You Time – Quality Mobile Dent Repair Swansea!
Our mobile company will come to your work or home and repair the dent in about an hour. All we require is space for our mobile workshops and access to a power point.
Our dent master technicians each have over 20 years combined PDR experience. They are professional, courteous, and prompt. When it comes to repairing a ding or dent, our mobile service offers you the most cost effective solution in South Wales.
Paintless dent removal – also known as PDR – is a specialised skill. All of our mobile dent repairing  technicians have completed this specialised training.
Your car's dents or ding's will be repaired correctly – the first time – and as long as there is no paint damage before we start the repair area should be unnoticeable when completed.you should not be able to see where the repair was done when completed.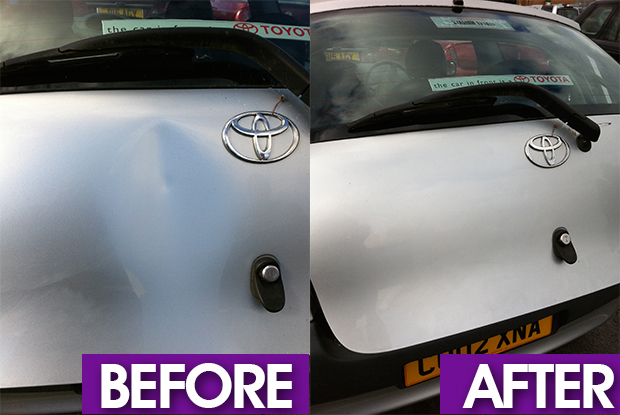 Dent Repair Swansea - Save Customers in South Wales Money!
If you have ever had a car repainted or repaired at a local  body repair shop, you know just how expensive an experience it can be. Our mobile (PDR) paint less dent repair service can save YOU hundreds of pounds when using traditional body repair services.
Many local main dealers use our services, such as Bentley, Porsche, Jaguar, Land Rover, and Aston Martin as well as rental companies, Insurance and Fleet return centers. We help these dealers get their vehicles ready to sell. In addition, many of our customers have leased a vehicle through a business don't want the high fees charged for damage when they return the vehicle. We can save both business and private customers a lot of money with our services.
Our technicians employ a number of techniques for such a repair process. In some cases, the repair may only require removing a scratch or scrape keeping your original vehicle finish. In other instances, there may be a minor dent or ding that needs to be repaired, as well. Rest assured that our experienced technicians have the skills and equipment to complete the repair and you usually won't even be able to tell where the damage was afterwards.
Some areas of a vehicle are more frequently damaged than other areas are. For example, the doors of a car can take a lot of abuse. Our car dent repair technicians are very experienced at repairing all types of dings and dents including damage to door trims and interior panels, wings and most metal areas of your vehicle. This dent service could save you a lot of money compared with the cost of using a local body repair center to repair any minor dings and dents without the need of filler and paint.
Repairing scratches, dings, dents, and other small damage will improve the value of your car. Our mobile (PDR) paintless dent removal service as well as our car paint repair service covering Swansea are both competitively priced. We want your car to look beautiful again, so phone us today or forward photo's to receive a free quote.
Simply use the contact form to contact us or alternatively phone Steve on 07792-320692 or Carmond on 07977-514324