Car Bumper Repair Swansea

We repair Customer Car bumper Scuffs, Scrapes and Scratches.
Are Your Car Bumpers Dinged, Dented, Scraped, or Scuffed?
We can repair them,
Our mobile car body bumper repair business CAN HELP YOU for all your mobile cosmetic bumper paint repair's in Swansea and the surrounding area. Did you know that 95 per cent of all bumpers on newer cars are made from plastic? While this certainly has its advantages, plastic bumpers can also become easily damaged. If your car has dings, dents, scrapes, scratches, or scuffs in its body and plastic bumpers and even cracks and splits then you need our mobile body repair and refurbishment service covering the Swansea and South Wales area.
We understand that your car is an investment. When there is visible damage to your car, it lowers the value of it. Replacement parts, such as bumpers,alloys are very expensive and can take quite a bit of time to install and you still need to paint the new part. We have a better option that will save you the customer both time and money Repair rather than Replace a much better and greener experience with a lower cost. We don't only carry out minor alloy wheel refurbishment and Scuffs, our services are varied just check out our other company offers.
Simply use the form on the right to contact us or alternatively phone Steve on 07792-320692 or Carmond on 07977-514324
Car Bumper Repairs Swansea Saving Our Local Customers both time and Money by Providing an Excellent Local Smart Car Bumper Repairs Service at a great Price!
Our Swansea and South Wales Smart body repairs Business can save you a lot of your hard earned cash over replacement costs or Insurance Excess especially with auto minor scuffs,scratches and dents that are only cosmetic. We are very competitive in our pricing and all of our work is guaranteed Quality. Don't take your motor to a body shop to be repaired where it might sit for days until the bumper repair can be completed. Who wants to be without their car? Not a great experience…Instead, phone us for a free quote or forward a couple of Photo's to get an idea of the repair cost and to learn more about our services.
We Save Our Customers Money!
One of the main reasons our customers love us and are happy is because we are a mobile service and cover most of South Wales and the M4 corridor. Even though damage to a plastic bumper or body panel usually requires plastic welding, our mobile workshops are fully equipped to come to your home or place of work and complete the repairs making it an easy and convenient experience. All we require is a power point and room to park our vehicle near to or alongside yours. Most of the bumper repairs can be completed in couple of hours. We specialize in SMART repairs and dent repair that require less time, but provide exceptional results.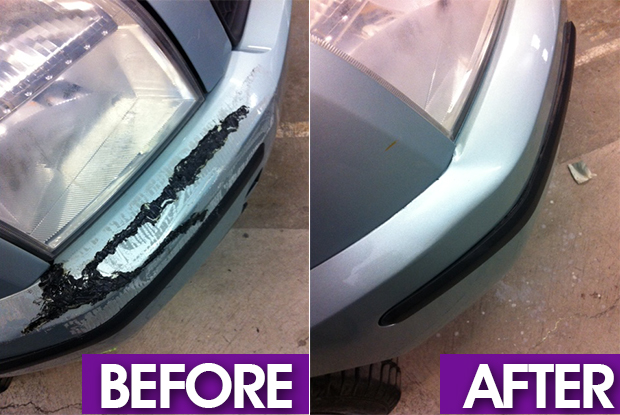 Saving Our Customers Money! Making them Happy
In addition to plastic bumper scratch repairs, there are many other plastic parts of your motor that we can repair, such as spoilers, grills, trims, and mirror casings as many of these are also made of plastic. If you have priced these replacement parts, you know just how expensive they can be. Our mobile service can repair many of these parts, saving you time and money over replacement costs.
Simply use the contact form above to email us or alternatively phone Steve on 07792-320692 or Carmond on 07977-514324
Once our skilled and experienced Swansea bumper paint repair technicians match your auto paint colour and finish the repair, there should not be any sign of the damage or the repair, as we like to say "Our Best Work goes Un-noticed" Dent repair, minor scrapes,bumper scuffs and dents, and even leather seat scuffs or dent removal can all detract from the beauty and value of your car. By repairing this damage, not only will you feel better about driving your car, the value of the vehicle will increase, too. Such visible damage will lower your car's value. If you have leased a vehicle and want to return it, this type of damage can end up costing you hundreds in vehicle return fees we have many happy lease and rental customers as Our mobile Smart repair service can repair this damage and keep you from paying those fees.
Let our professional, courteous, and prompt vehicle paint scuff repairs company restore your car body to its original quality in a matter of hours and at a price that is competitive as well as convenient.
Contact us today to receive your free quote or help and advice for our mobile car bumper minor Scuff repairs service covering Swansea and South Wales.
Simply use the form above to email us or alternatively Contact Steve on 07792-320692 or Carmond on 07977-514324
** If sending an image during business hours we will try to answer within the hour when possible, during the working day**